Placing a Room Reservation Request
All conference rooms on campus have a calendar in the LA BioMed Exchange (Outlook) system.
To place an appointment with an LA BioMed conference room, go to your Outlook email application switch to Calendar view by clicking on the calendar icon at the bottom left of the Outlook application.

Under the Home tab, click on New Appointment.

In the appointment window please provide a subject title and describe the meeting in the body, along with the number of attendees and if the attendees are LA BioMed staff, researchers, hospital staff, physicians, and/or guests, along with the date and time. If you need the room's tables and chairs to be configured in a certain way beyond the default, please include that in the description.
Appointments can be made up to six months (180 days) into the future.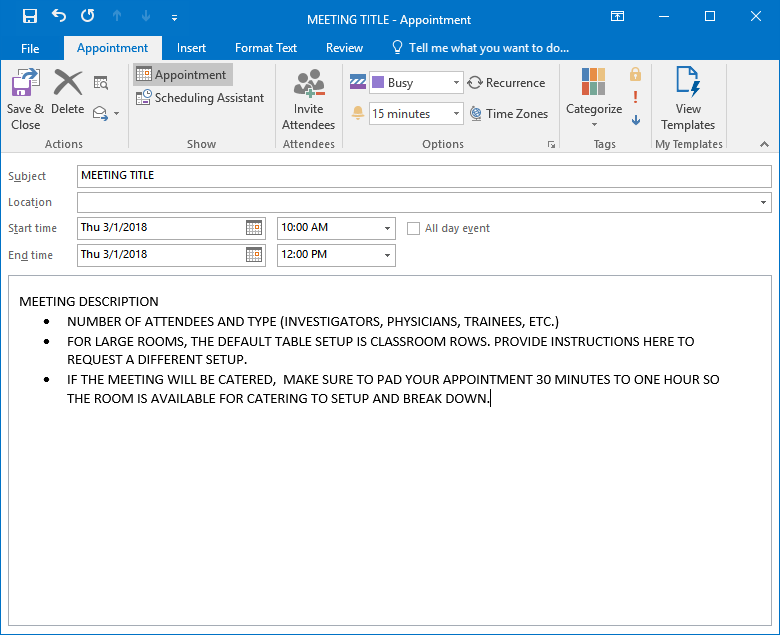 If you wish to make a recurring appointment, click on Recurrence.

The Appointment Recurrence window will appear, where you can define the recurrence period.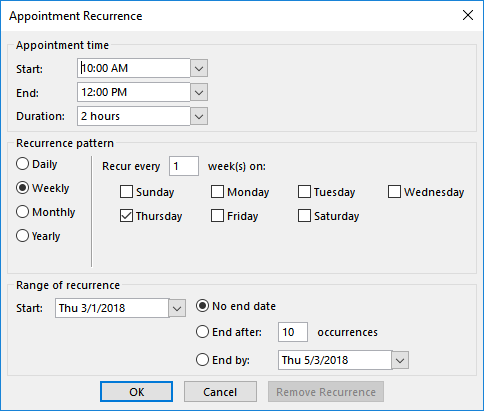 Once you have this filled out, click OK to return to the Appointment. Please note that the six month limit applies to recurring appointments, so make sure your recurrences do not extend past six months or your appointment will be automatically declined by the system.
To add a room to your appointment, on the top menu bar, select Scheduling Assistant.

At the bottom, click on the Add Rooms button.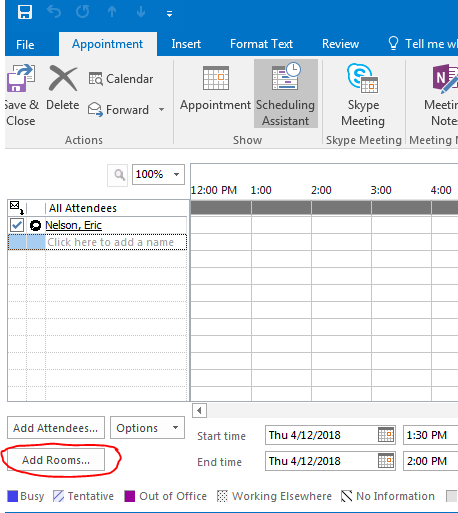 Select the room(s) you wish to book. Below is an example of booking the CDCRC 1st floor conference room.
When added, you will see the room in the attendee list with a green house icon.

You can add other attendees in this area, as well. Once you are finished, go ahead and send the appointment.
Please do not use someone else's account to make these requests. If multiple people need to have this on their calendar, please add them in the Scheduling Assistant as an attendee so all of you can see it in your respective calendars.
For certain rooms, your reservation will not be automatically accepted, but rather tentatively accepted. These rooms are:
CDCRC 1st Floor Conference Room
CDCRC 2nd Floor Conference Room
Martin Building Chopra Conference Room
Liu Building 1st Floor Conference Room
Liu Building CTSI Videoconference Room
Martin Building Terrace (North and South)
N-14 Building Boardroom
The room request will remain tentatively accepted until it is confirmed by Conference Room Services. For room requests placed within 30 days, the appointment will be confirmed within 48 hours. For room requests placed over 30 days in the future, the appointment will be confirmed when it is 30 days away.
As long as your appointment is on the room's calendar, tentative or confirmed, no one else can place a conflicting appointment.
Bear in mind that if the room request is for an appointment over six months away or is already reserved (tentative or confirmed), your request will be automatically declined and we will not receive the reservation request, so please check your inbox to make sure you do not receive a decline message.
Viewing a Room's Calendar
The easiest way to check is to add the room calendar to your Outlook calendar list. You can do this by going to the calendar view, right clicking on My Calendar, hovering over Add Calendar, then selecting From Room List.
You can then select the room calendar and see if your appointments are present, which verify that the room is reserved for you (even if tentative, no one else can reserve that slot).
Questions
For questions and/or concerns, please contact Conference Room Services at rooms@lundquist.org / 310-222-2536